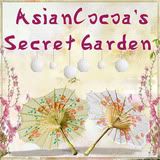 I am very excited to announce that AsianCocoa is joining Book of Secrets as a guest reviewer! We share a similar taste in books, so I am thrilled she will be helping out with reviews. She is active on Goodreads and Twitter.
ABOUT HER:
"I'm a lover of Smut, Books, Movies & Music. Movie version of books are never as good as the books they're based on. I also like to go on long runs and drink vodka martinis. I'm a healthy lush!"
Look for her first review next week. Welcome, AsianCocoa!