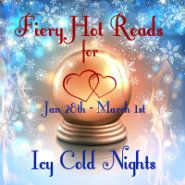 I'm excited to be participating in FIERY HOT READS FOR ICY COLD NIGHTS! This event is hosted by Kimba the Caffeinated Book Reviewer, Love of Books, Mostly Reviews, Rainy Day Ramblings, and Cambira Hebert.
For my post, I am reviewing Victoria Roberts' new Highlander romance X MARKS THE SCOT and giving away a copy of the book to one lucky reader!
X MARKS THE SCOT
(Bad Boys of the Highlands, #2)
He was a Highland rogue - wicked with a bow and just as wicked with the ladies.


Declan MacGregor hadn't a care in the world beyond finding a soft bed and willing woman...until he had to escort Lady Liadain Campbell to the English court. The woman needles him at every turn, but he can't just abandon her to that vipers' nest without protection.


She never asked for a bodyguard...


Liadain wasn't thrilled to be left in the care of her clan's archrival. It was as if the man never had a lady tell him no before! And yet as whispers of treason swirl through the court and the threat of danger grows ever sharper, her bitter enemy soon becomes the only one she can trust...
DISCLOSURE: I received a complimentary copy of this book from the publisher (via NetGalley) in exchange for an honest review.
My Thoughts:
I love me some Declan. *swoon*
X MARKS THE SCOT picks up where the first book (TEMPTATION IN A KILT) ended. Laird Ciaran MacGregor's youngest brother Declan is sent to the English court as an escort for Lady Liadain Campbell, and neither one is happy about the arrangement. It *might* be because their clans have been mortal enemies forever and ever, and Declan would rather drink and bed the lasses than be responsible for anything.
In spite of the fact that he's a naughty rogue, Declan takes his job as Liadain's protector very seriously, and my goodness, she needs one! Liadain is an expert herbalist and healer, which ends up getting her in some trouble at court. In a strange twist of fate the two are forced into marriage and sent back to the Highlands, and their new relationship as husband and wife does little to ease the bitterness between them.
Declan and Liadian are both strong-willed, passionate characters, and soon the animosity turns to yummy sexual tension. But just as things start to change between them, lies, betrayal and political intrigue threaten to tear them apart.
X MARKS THE SCOT was an entertaining historical romance with an intriguing story and great characters. If you haven't read the first book in the Bad Boys of the Highlands series, I would recommend doing so before reading this one. I think it could be read stand alone, but knowing the back story will make it even more enjoyable. 4-stars!
Review copy courtesy of NetGalley.
Giveaway Details:
I'm giving away a paperback copy of X MARKS THE SCOT to one lucky reader! The contest is open anywhere The Book Depository delivers free of charge. You must be 18+ to enter. Just fill out the Rafflecopter widget below. Good luck!
a Rafflecopter giveaway